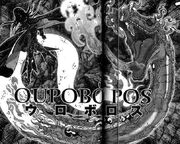 L'uroboro (dal greco ουροβóρος dove 'ourá' sta per 'coda') un simbolo molto antico che rappresenta un serpente che si morde la coda, ricreandosi continuamente e formando così un cerchio. È un simbolo associato all'alchimia, allo gnosticismo e all'ermetismo. Rappresenta la natura ciclica delle cose, la teoria dell'eterno ritorno, e tutto quello che è rappresentabile attraverso un ciclo che ricomincia dall'inizio dopo aver raggiunto la propria fine. In alcune rappresentazioni il serpente è raffigurato mezzo bianco e mezzo nero, richiamando il simbolo dello Yin e Yang, che illustra la natura dualistica di tutte le cose e soprattutto che gli opposti non sono in conflitto tra loro.
In Episode G Iperione è in grado di evocare un uroboro (che ha l'aspetto di un serpente di fuoco) per potenziare il suo potere rigenrativo con l'attacco Ouroboros Prominence.
Ad blocker interference detected!
Wikia is a free-to-use site that makes money from advertising. We have a modified experience for viewers using ad blockers

Wikia is not accessible if you've made further modifications. Remove the custom ad blocker rule(s) and the page will load as expected.