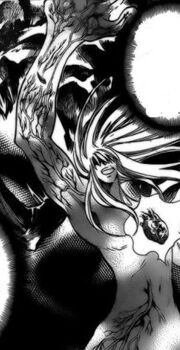 Il Tlacotli (生贄印の牙 Torakotori no kiba lett. Zanna Tlacotli, parola azteca per schiavo) è una zanna di ossidiana con cui i Jaguar marchiano le vittime sacrificali di cui riconoscono il cuore come "eletto" (ossia degno di essere sacrificato a Tezcatlipoca). Esso viene introdotto nel corpo della vittima, in modo che viaggiando per il cuore attraverso il suo sistema circolatorio ne risucchi anche il calore emesso. Tale operazione comporta la morte della vittima nel giro di due giorni.
Huesuda ne inserisce uno nel corpo di Cardia, il quale viene poi liberato da Carbela a seguito la sconfitta del dio azteco e del suo sacerdote.
Ad blocker interference detected!
Wikia is a free-to-use site that makes money from advertising. We have a modified experience for viewers using ad blockers

Wikia is not accessible if you've made further modifications. Remove the custom ad blocker rule(s) and the page will load as expected.