Shadow Saint

La versione di Kurumada dello Shadow Saint
Debutto
Videogioco
Saint Seiya: ougon Densetsu
Doppiatori
Informazioni
Specie
Umana
Sesso
Maschio
Tipo di Armatura
Cloth
Divinità
Atena
Esercito
Esercito di Atena
Affiliazione
Saga/Arles
Rango
Guardia del corpo del Grande Sacerdote
Tempio
Tredicesiam Casa
Lo Shadow Saint è un Cavaliere che appare unicamente nel Saint Seiya: Ougon Densetsu come guardia del corpo del Grande Sacerdote, e sostituto di quest'ultimo come boss finale (di cui all'epoca non era ancora stata rivelata la vera identità).
Il personaggio (così come la sua corazza, lo Shadow Cloth) é stato creato da Toshiya Onô: un ragazzo che vinse un concorso organizzato da Shueisha tra i fan della serie.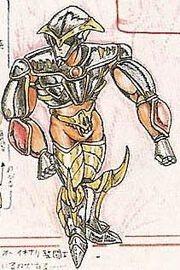 Ad blocker interference detected!
Wikia is a free-to-use site that makes money from advertising. We have a modified experience for viewers using ad blockers

Wikia is not accessible if you've made further modifications. Remove the custom ad blocker rule(s) and the page will load as expected.