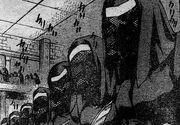 In Lost Canvas viene introdotto un gruppo di donne al servizio di Ade e del suo esercito, svolgendo lavori domestici per Pandora o per i vari Specter. Vestono un abito simile a quello delle suore, ma hanno il viso coperto da un velo nero.
La loro prima apparizione nel manga è quando vestono Violate con la sua Surplice per la battaglia in Jamir contro Regulus. Successivamente appiono nella stanza da bagno di Pandora, mentre le pettinano i capelli. Un altro gruppo di serve appare nella Casa di Venere, mentre aiuta Rune a compilare l'elenco delle persone che stanno per essere "salvate" dal potere di Aron.
Nell'anime la loro comparsa avviene inece molto prima, dopo che Hypnos ha convocato Oniro e le altre divinità dei sogni.
Da quanto visto nel volume di Anecdotes dedicato ad Albafica, le serve vengono reclutate in modo simile agli Skeletron, essendo donne che hanno scelto (più o meno volontarimente) di servire Ade diventando abitanti degli inferi.
Ad blocker interference detected!
Wikia is a free-to-use site that makes money from advertising. We have a modified experience for viewers using ad blockers

Wikia is not accessible if you've made further modifications. Remove the custom ad blocker rule(s) and the page will load as expected.