Pallasbelda
(パラスベルダ, Parasuberuda)
Informazioni
Governante
Pallas
Difese
Muro
Esercito
Pallasiti
Pallasbelda (パラスベルダ, parasuberuda) è la città fortezza della Dea Pallas. È circondata da enormi mura, e al suo interno ci sono tante costruzioni, tra cui si vede il castello principale, dove cè l'esercito dei Pallasiti. Un'altra caratteristica è l'energia che emana dall'interno del castello.
Portone del TempoEdit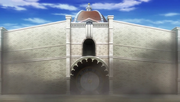 Template:Cita El Portón del Tiempo (時の門, Toki no Mon) es la puerta principal que conduce al Castillo de Pallas está defendido por la élite de soldados pallasite y a su vez por el pallasite Europa de Chakram. Es una gran muralla blanca que rodea al Castillo de Pallas, de la cual al parecer es la única entrada a este. Dicho portón tiene forma de anillo cuyas letras están con números romanos en un anillo dorado.
El portón esta compuesto por 3 defensas principales siendo estas:
La Elite Edit
Son los soldados más poderosos del ejercito de Pallas por lo cual defienden la ultima linea defensiva del castillo, a pesar de ser estar en cuarto nivel, su poder esta muy cerca de los pallasite de tercer nivel.
Template:AP Es el guardia de este lugar así como el líder de todos los soldados que defienden la muralla, es muy poderoso puesto que puede moverse a la velocidad de la luz, como se vio en su enfrentamiento con Seiya.
Detener el tiempoEdit
Es la tercera barrera que protege al castillo y siendo las más importante puesto que todo aquel que se acerque a él, es paralizado en el tiempo sin poder moverse, dicha habilidad se dice que es la mida que el gran pallasite de primer nivel Titán de la Espada Teogénesis.
Ad blocker interference detected!
Wikia is a free-to-use site that makes money from advertising. We have a modified experience for viewers using ad blockers

Wikia is not accessible if you've made further modifications. Remove the custom ad blocker rule(s) and the page will load as expected.