Palaestra
(パライストラ, Paraisutora)
Informazioni
Nazione
Grecia
Divinità
Atena
Governante
Atena
Esercito
Santos
La Palaestra (パライストラ, Paraisutora?) è l'accademia creata da Atena, dopo l'inizio della guerra con Mars, per allenare i giovani Bronze Saint in vista di future minacce ed imparare ad utilizzare i nuovi poteri dei cloth-stone. Qui studiano per un breve periodo Koga e i suoi amici. Finché Mars sferra il suo attacco, imprigionando tutti i giovani allievi ed insegnati fedeli ad Atena. Soltanto il gruppetto di Koga riuscirà a sfuggirgli.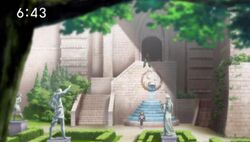 Ad blocker interference detected!
Wikia is a free-to-use site that makes money from advertising. We have a modified experience for viewers using ad blockers

Wikia is not accessible if you've made further modifications. Remove the custom ad blocker rule(s) and the page will load as expected.