In accordo con la mitologia greca le ninfe (dal greco antico νύμφη, "giovane fanciulla") erano delle divinità minori di sesso femminile legati alla natura o alle stelle.
Vi erano molti tipi di ninfe, tutte riconducibili a quattro grandi gruppi: le ninfe terrestri (Epigee), le ninfe degli alberi (driadi), le ninfe delle acque, sia terrestri che infernali (Oceanie, Avernali, Eliadi e Naiadi) e quelle celesti (come le Pleiadi).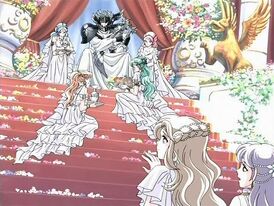 Nella saga de I Cavalieri dello zodiaco appare un gruppo di ninfe che vive nell'Elisio alla corte di Thanatos, con il quale al dio piace intrattenersi e ben due personaggi della saga hanno il loro simbolo ispirato ad un tipo di ninfa:il generale di Poseidone Kaysa di Lymnades (che prende il suo nome dalla Liminiade, ossia dalle ninfe degli stagni e delle paludi) nella serie classica e lo Specter Luco della Driade in Lost Canvas.
Ad blocker interference detected!
Wikia is a free-to-use site that makes money from advertising. We have a modified experience for viewers using ad blockers

Wikia is not accessible if you've made further modifications. Remove the custom ad blocker rule(s) and the page will load as expected.