Monte Fuji
(富士山, Fuji-san)
Informazioni
Classificazione
Monte
Altri Nomi
Fujiyama
Nazione
Giappone
Luoghi interni
Caverne dei dieci venti
Il monte Fuji è un vulcano attivo e la più alta montagna del Giappone. Si trova al confine fra le prefetture di Shizuoka e Yamanashi ed è considerato sacro dagli shintoisti.
Appare unicamente nel manga originale come teatro dello scontro fra i Cavalieri di Bronzo e quelli Neri. Nell'anime viene sostituito dalla "Valle della morte". Nella serie Omega nei suoi pressi si trova il villaggio dei ninja della Scuola Fuji (luogo natale di Haruto e Yoshitomi), nascosto nelle foreste ai piedi della montagna.
Caverne dei dieci venti
Edit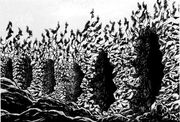 Ad blocker interference detected!
Wikia is a free-to-use site that makes money from advertising. We have a modified experience for viewers using ad blockers

Wikia is not accessible if you've made further modifications. Remove the custom ad blocker rule(s) and the page will load as expected.