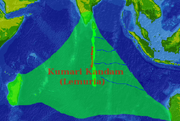 Lemuria
è il nome di un continente scomparso, che si trovava nell'Oceano Indiano. Le teorie su Lemuria, necessarie per le teorie della biogeografia del XIX secolo, sono divenute obsolete in seguito alla scoperta e alla comprensione della tettonica a zolle.
Sebbene Lemuria sia scomparsa dal regno della scienza, essa è sopravvissuta grazie agli scrittori dell'occulto. I racconti su Lemuria differiscono in base alle necessità di contestualizzazione degli autori; quasi tutti condividono, però, l'elemento cataclismatico che avrebbe fatto affondare l'antico continente, in analogia con l'Atlantide di Platone.
Ad blocker interference detected!
Wikia is a free-to-use site that makes money from advertising. We have a modified experience for viewers using ad blockers

Wikia is not accessible if you've made further modifications. Remove the custom ad blocker rule(s) and the page will load as expected.