Keraunos (κεραυνός) è la parola greca che indica il "fulmine", elemento associato nella mitologia classica al dio Zeus o Giove.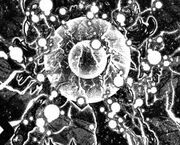 Nel manga I Cavalieri dello zodiaco - Episode G il termine Kerauonos viene utilizzato per la prima volta di Ceo , mentre descrive il fulmine come l'unica forza in grado di uccidere i Titani (precedentemente era stato solo nomianto come unico elemento su cui Crono non ha potere). Fu infatti proprio Ceo a sviluppare il fulmine come arma per proteggere il suo re e il suo popolo, ma poi resosi conto della sua pericolosità decise di rinunciarvi, tuttavia durante la Titanomachia, sua sorella Mnemosine tradì i suoi fratelli, rubando dalla mente di Ceo la conoscenza del Keraunos e donandola a Zeus.
Ad blocker interference detected!
Wikia is a free-to-use site that makes money from advertising. We have a modified experience for viewers using ad blockers

Wikia is not accessible if you've made further modifications. Remove the custom ad blocker rule(s) and the page will load as expected.