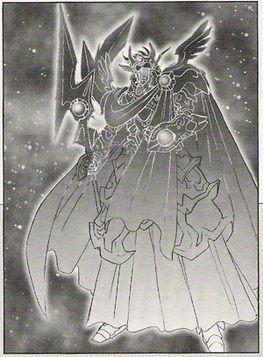 Le Kamui (神衣(カムイ) lett. Vesti divine) sono le dodici armature che possono indossare solo i Dodici dei dell'Olimpo guidati da Zeus, cosa che le rende tra le più resistenti e potenti.Vengono nominate per la prima volta durante da Thanatos nel volume 28 del manga classico dopo che l'armatura di Seiya si è evoluta in un God Cloth, la tipologia di armatura che più si avvicina a quella dei dodici dei[1].Poiché le armature indossate da Poseidone, Ade ed Atena durante la serie vengono rispettivamente indicate come Scale[2], Surplice[3] e Cloth[4] la prima Kamui ad apparire effettivamente è quella di Zeus, comparsa in ombra sull'enciclopedia Taizen pubblicata nel 2001, sebbene non sia completamente visibile.
Alla sua prima apparizione in Next Dimension la dea Artemide indossa un'armatura dorata ed elegante, che ricopre tutta la parte superiore del corpo della dea, ma non la parte inferiore, ma non viene identificata dall'autore come Kamui. In Episode G viene inoltre fatto un accenno all'armatura di Apollo da parte di Ettore.
In accordo con la lista della Taizen le divinità olimpiche dovrebbero essere (oltre a Zeus, Ade, Poseidone, Atena, Apollo ed Artemide) Ermes, Efesto, Afrodite, Demetra, Era ed Estia. Tale elenco contrasta con quello della mitologia greca[5]
Ad blocker interference detected!
Wikia is a free-to-use site that makes money from advertising. We have a modified experience for viewers using ad blockers

Wikia is not accessible if you've made further modifications. Remove the custom ad blocker rule(s) and the page will load as expected.