Il granato della Vuoivre (ヴィーヴルの石榴石 Vīburu no Gānetto) è una pietra magica trovata da Garnet in una grotta durante la sua fuga a seguito dei disordini che coinvolsero il feudo dove viveva dopo la morte di suo marito. Nel folklore francese la vuoivre è un seprente dotato di due ali e due zampe di porco, posto a guardia di un tesoro, caratterizzato dall'avere un granato incastonato sulla fronte.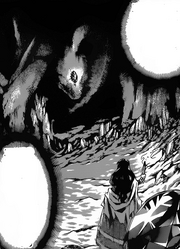 Il granato ha il potere di permettere di controllare gli spiriti delle pietre preziose, di permettere al suo possessore di rimanere giovane in eterno assorbendo l'energia vitale degli esseri umani e di possedere una voce seducente. Verosimilmente è anche il creatore dell'armatura indossata da Garnet alla fine dello scontro tra Krest e Degel. Viene distrutta quando la donna si pone tra Krest e il colpo lanciato dal Cavaliere dell'Acquario, riportando lentamente Garnet alla sua vera età.
Ad blocker interference detected!
Wikia is a free-to-use site that makes money from advertising. We have a modified experience for viewers using ad blockers

Wikia is not accessible if you've made further modifications. Remove the custom ad blocker rule(s) and the page will load as expected.