Giudecca
Informazioni
Altri Nomi
Quarta Sfera
Nazione
Inferno
Governante
Ade e Pandora
Esercito
Specter
Luoghi interni
Sala del trono di Ade

Muro del Lamento
La Giudecca (ジュデッカ Judekka) è la Quarta Sfera del Cocito, ed il palazzo da dove Ade domina l'Inferno, di ci è il luogo più profondo.
In quanto palazzo del re del mondo dei morti, la Giudecca comprende la sala del trono di Ade dietro a cui (nel punto più profondo dell'Inferno dove non può arrivare neanche un raggio di Sole) vi è collocato il Muro del Lamento che separa l'Infenro dall'Elisio.
Ambienti interni
Edit
Sala del trono
Edit
Muro del Lamento
Edit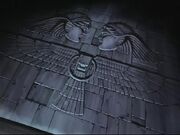 Il Muro del Lamento (o del Pianto) è l'invalicabile parete che separa l' Inferno dall'Elisio ed essendo un muro di natura divina eagli uomini non è concesso di attraversarlo o scalfirlo con la propria forza e solo gli dei possono passarvi attraverso, senza bisogno di creare un varco che può essere aperto solo con l'energia di un raggio di Sole, che viene creato grazie alla forza congiunta dei dodici Cavalieri d'Oro a prezzo della loro vita, per far sì che quelli di Bronzo possano raggiungere Atena e Ade nell'Elisio.
Graficamente il muro è ispirato alla sua controparte reale in Israele, con la differenza che presenta i volti gemelli di Hypnos e Thanatos e una decorazione in stile egiziano.
Ad blocker interference detected!
Wikia is a free-to-use site that makes money from advertising. We have a modified experience for viewers using ad blockers

Wikia is not accessible if you've made further modifications. Remove the custom ad blocker rule(s) and the page will load as expected.