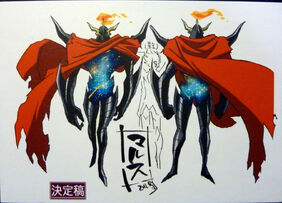 Galaxy (銀河衣 (ギャラクシー), gyarakushī?, lett.vesti della galassia/della Via Lattea, detta anche Galaxy Mail[1]) è il nome dell'armatura indossata da Mars in Saint Seiya Omega. Appare come una corazza nera con l'elmo che copre tutto il volto, ricoperta da spuntoni su braccia e spalle, il petto e l'addome sembrano essere una vera e propria galassia.
Tale aspetto è dovuto al fatto che la corazza ha inglobato parte dell'oscurità di Apsu che costituiva il meteorite evocato da Medea per distruggere Atena, difatti prima Mars indossava un'altra armatura, più simile a quelle indossate dai Martian, con un elmo che gli lasciava scoperto la parte inferiore del volto. (Non è chiaro però se anche questa corazza, come quelle dei soldati di Mars e dei Quattro Re Celesti possa essere considerata una Galaxy oppure no).
Dopo la morte di Mars, Medea estrarrà tale cosmo dall'armatura, riportandola al suo antico aspetto.
A seguito del contatto con l'oscurità la Galaxy Mail dona al suo possessore il potere d'infliggere ai nemici la maledizione di tenebra con cui contamina Saori, di potersi mutare in un colosso di tenebra e d'imprigionare Seiya nelle tenebre del pianeta rosso.
↑ Il termine Galaxy Mail viene usato da Amor e Medea nell'episodio 47. In inglese il termine 0mail significa in questo caso cotta di maglia
Ad blocker interference detected!
Wikia is a free-to-use site that makes money from advertising. We have a modified experience for viewers using ad blockers

Wikia is not accessible if you've made further modifications. Remove the custom ad blocker rule(s) and the page will load as expected.