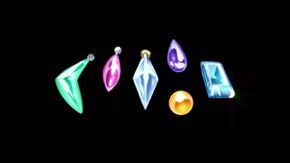 I Clostone (Cloth+stone) sono delle gemme che vengono usate in Saint Seiya Omega dai protagonsiti per evocare le loro armature, le quali appaiono sul loro corpo prendendo quindi il posto dei Cloth Box e delle armature in forma assemblata. Grazie alla Clostone è possibile richiamare anche solo una parte della propria armatura, come il bracciale.
Secondo quanto detto da Ichi a Kouga, la nascita delle Clotstone è avvenuta a seguito del conttatto fra i Cloth presistenti e un potere cosmico di natura non meglio specificata.
Elenco dei Clostone
Edit
Pegasus: colore azzurro chiaro a forma di diamante
Linonet: sfera di colore arancione
Aquila: gemma a goccia allungata di colore fucsia
Dragon: forma rettangolare di colore verde scuro. Incastonata in un anello
Orion, fortma di goccia. Inastonata nel guanto indossato sulla mano destra.
Ad blocker interference detected!
Wikia is a free-to-use site that makes money from advertising. We have a modified experience for viewers using ad blockers

Wikia is not accessible if you've made further modifications. Remove the custom ad blocker rule(s) and the page will load as expected.