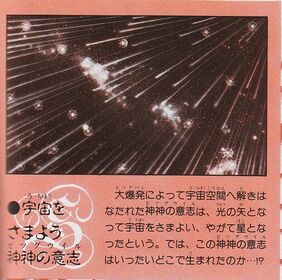 Il
Big Will
è un concetto che viene accenato per la prima volta nell'Hypermyth pubblicato su
Saint Seiya Cosmo Special
. Non viene mai nominato nella serie TV, ma vi si trova un riferimento ad esso nel romanzo
Gigantomachia
.
Secondo quanto narrato nell'Hyprmyth: il Big Will è l'energia all'origine della vita e degli astri, rilasciata dal Big Bang. Arrivata sulla Terra essa diede origine a tre divinità (Gaia, Urano e Ponto) per poi originare la vita. Il Big Will non è solo l'energia all'origine della vita, ma anche lo stato ultimo del Cosmo; un super senso risvegliato da coloro che sono che sono stati ricrodati come divinità (tra cui anche Zeus , Ade e Poseidone [1]) nei vari miti terrestri[2].
L'idea del Big Will come "Nono senso" o "Nona coscienza" (così come quelli di Settimo ed Ottavo Senso) richiama un concetto buddista detto appunto "Le nove coscienze"[3], sebbene l'Hypermyth lo descriva unicamente come "Ipersenso" e non "Nono Senso".
↑ In Episode G l'origine di Zeus e dei suoi fratelli riprende invece la mitologia classica
↑ Traduzione della pagina dell'Hypermyth sull'origine degli dei in lingua inglese sul sito Mu's Corner
Ad blocker interference detected!
Wikia is a free-to-use site that makes money from advertising. We have a modified experience for viewers using ad blockers

Wikia is not accessible if you've made further modifications. Remove the custom ad blocker rule(s) and the page will load as expected.