Atlantide
Informazioni
Nazione
Regno sototmarino
Divinità
Poseidone
Esercito
Guerrieri dei Mari
Luoghi interni
Tempio di Poseidone con statua
Secondo quanto narrato nell'Hypermyth, Atlantide è una fortezza-tempio fatta costruire da Poseidone ai tempi della prima guerra sacra per invadere le terre emerse, inabissatasi dopo la sconfitta dell'armata del dio dei mari per mano di quella di Atena[1] (non si tratta dunque del Santuario dei Mari, costruito solo in seguito).
Atlantide fa la sua comaprsa in Lost Canvas, quando Degel e Cardia vi si dirigono guidati da Unity attraverso un passaggio segreto che la collega con la terra emersa, custodito dai cittadini di Bluegrado sito all'interno della biblioteca cittadina. Viene spiegato che la città sì è mantenuta intatta e vi è possibile respiraci per via del frammento di oricalco in cui Poseidone infuse il suo potere.
Essa appare come una città sormontata da un acropoli su cui si trova il tempio del dio con dietro una sua statua, viene in seguito ocngelata da Degel quando questi si sacrifica per fermare il potere di Poseidone riversato dall'oricalco nel corpo di Serafina (che avrebbe distrutto il mondo) e salvare Unity.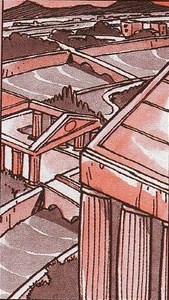 ↑ traduzione in inglese dell'Ipermito sul sito Mu's corner
Ad blocker interference detected!
Wikia is a free-to-use site that makes money from advertising. We have a modified experience for viewers using ad blockers

Wikia is not accessible if you've made further modifications. Remove the custom ad blocker rule(s) and the page will load as expected.