Allegro

Allegro con indosso il suo Cloth
(アレグレ, Aregure)
Debutto
Manga
Lost Canvas Anecdotes capitolo 29 (Manigoldo Gaiden 2)
Doppiatori
Informazioni
Specie
Umana
Sesso
Maschio
Tipo di Armatura
Black Cloth
Divinità
Teoricamente nessuno, tuttavia è un prete cattolico
Occupazione
Criminale


Prete

Esercito
Cavalieri Neri
Affiliazione
Nero
Costellazione
Balena
Rango
Dirigente di Nero


Prete

Tecniche
Holy Sprout


Will Baritsu
Alegre (alticcio in spagnolo e portoghese) è uno dei dirigenti dell'organizzazione criminale Nero, nonché Cavaliere Nero della costellazione della Balena e prete di una chiesa a Venezia nel XVIII secolo.
La sua armatura era già apparsa brevemente nel manga classico in un flashback di Ikki sull'Isola Death Queen
Personaggio
Edit
Alegre è uno dei quattro Cavalieri Neri giunti a Venezia a seguito di Avido per fondare l'organizzazione criminale Nero, assumendo il controllo della malavita cittadina. Si presenta come un uomo barbuto e molto robusto. Solitamente indossa una tunica con un crocifisso ed ha l'abitudine di bere molto vino.
Sebbene sia un prete cattolico, Alegre segue una sua personale visione del concetto di peccato, in quanto ritiene che solo seguendo i propri desideri istintivi l'uomo possa avvicinarsi a Dio e non esita a cercare di "converitre" la gente alla sua visione della fede usando la violenza (o meglio dei "sermoni fisici") giungendo anche ad uccidere suore e sacerdoti.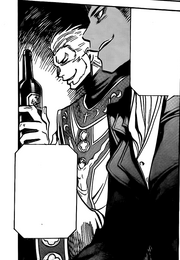 Ad blocker interference detected!
Wikia is a free-to-use site that makes money from advertising. We have a modified experience for viewers using ad blockers

Wikia is not accessible if you've made further modifications. Remove the custom ad blocker rule(s) and the page will load as expected.